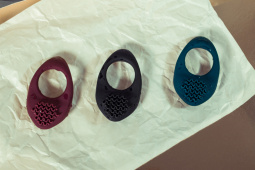 29.03.2021
The new collection of vibro cockrings, called the Pure Passion Moonshine, which has been recently presented by Lola Games, already became a perfect reflection of the brand's philosophy – a balance between living in a metropolis and an animalistic need to reveal customer's wildest sexual desires.

The Pure Passion Moonshine vibro cockrings are made of completely safe, elastic medical silicone and are able to satisfy both partners at once due to the ring's ribbed surface and easy-to-remove vibro-bullet for additional clitoral and external erogenous zones stimulation. The Moonshine vibration pads are incredibly quiet, battery-powered, and have a single vibration mode.

With a vibro cockrings by Lola Games, partners will not only be able to diversify their sex life and prolong man's durability but also get an unforgettable experience. Well, of course all of this possible thanks to Lola Games' constant researches in sexology and medicine, as well as fair feedback from the focus groups, which helps the brand to improve every day and produce high quality and affordable products.

The Pure Passion Moonshine vibro cockrings are available in three colors: passionate burgundy wine, noble emerald green and a strict black. Each of these three options has its own unique ribbed texture and can be the perfect companion to the world of pleasure.

Lola Games is a well-thought-out sex toys and accessories brand that has become famous due to its original design and high quality of production. More detailed information about Lola Games' products and news can be found on the official website and the brand's social networks, such as TikTok and Instagram.