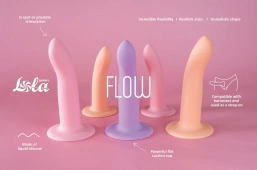 25.07.2022
Catch the Flow!

Unrealistic dildos Stray and Emotional from the Flow collection provide incredibly comfortable and gentle penetration, because of soft silicone rubber, named liquid silicone, which will provide a whole range of pleasant sensations.

Anatomically correct sizes of Flow are suitable for both vaginal and anal stimulation. The length and diameter of Stray are 16.6 and 3.4 cm; Emotional is 13 cm and 2.9 cm. The tapering and curved tip of unrealistic toys is suitable for both stimulating the G-spot and the male prostate.

Despite its softness and cute appearance, Flow dildos are able to withstand extremely low and high temperatures, which will allow you to experiment with temperature games, as well as boil toys and use them with lubricant on any basis. Both variations of Flow are made in delicate pastel colors – peach, yogurt pink and rich purple.

Thanks to the powerful and flat suction cup at the base of Stray and Emotional, as well as their light weight, dildos by Lola Games are perfectly combine with harness panties, which allows you to use Flow as a strap-on, securely fixing the toy in the O-ring without taking away its working length.

To increase the social responsibility of the brand, the Lola Games team makes every effort to preserve natural resources, refusing to use plastic and overspending paper. All dildos from the Flow collection do not contain phthalates and are carefully stored in a biodegradable cloth bag inside a fully cardboard package. You can find out all the detailed information about the storage and care of the toy by scanning the QR code on the package.