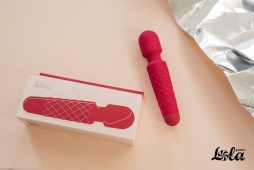 29.10.2021
Dashing Wand

The high-power Dashing Wand is made of velvety, eco–friendly silicone, which is a non-porous and easy-to-care material. Being able to mix business with pleasure, the wand will replace two devices at once – a clitoral stimulator and a home massager.

Dashing Wand will bring pleasure that can last up to two hours without recharging thanks to a powerful motor, capable of reaching speeds of up to 13,500 revolutions per minute, and its flexible head.

Experiment! The device has 20 unique, different from each other vibration modes, which has additional 8 speed modes that will help you adjust the selected vibration mode. Adapting to the individual preferences of users with any sensitivity, the Dashing Wand is capable of a softer and brighter vibration. During the use of the toy, its noise level will not rise above 50 dB even with the most powerful mode thanks to the Wand's noise insulation. All you will hear is just your sweet moans!

Convenience in every detail! You can use the Dashing Wand not only solo or in bed with a partner, but also in the shower, and even in the bath. The device is made according to the IPX7 waterproof standard and can work at a depth of up to one meter.

The length of the Dashing Wand is only 21 cm, which makes it one of the most compact devices in its genre. Available in the color of passionate bordeaux, the Wand is carefully packaged in a fully recyclable cardboard package with zero plastic content. The toy is stored in a satin bag along with a convenient USB charging device.

The Lola Games satin bag is ideal for storing toys because it does not allow direct sunlight, and also protects the toy from dust, scratches, and other minor damage.

The Lola Games brand of sexual-wellness products is a guarantee of quality and thoughtful design of the toys and accessories. The brand's team constantly monitors trends and technology development, introducing modern solutions into their toys and accessories in order to present the highest quality products that combine functionality and visual aesthetics.