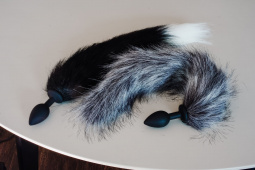 15.08.2022
Positive emotions make us feel happy and make our life brighter. The new Emotions anal plugs with tails are designed to cause a cascade of positive emotions.

The delicate silicone plug at the base of Emotions Shaggy and Furry toys is hypoallergenic for the skin and mucous and easy to care for. The gray and black-and-white tails are made of safe and reliable faux fur. The length of the fluffy tails is 38 cm, and the working length of the plug is 7.2 cm with a diameter of 2.8 cm, which makes Shaggy and Furry not only an excellent decoration for role–playing games and parties, but also an ideal accessory as the first toy for anal stimulation.

You can use Shaggy and Furry from the Emotions collection with a lubricant on any basis, be it silicone, glycerin, water or hybrid. The new Emotions anal accessories are carefully packed in eco-friendly fully cardboard packaging without plastic content with all the basic information displayed in the form of minimalistic icons.

Lola Games is a European brand of sexual wellness products, repeatedly awarded international design awards for its principles of environmental friendliness and high standarts of quality. Stay in touch on social networks and media resources of the brand, as well as on the official website, so as not to miss news, informational posts and announcements of conversational broadcasts and webinars within the framework of the Adult Profi Online educational platform.