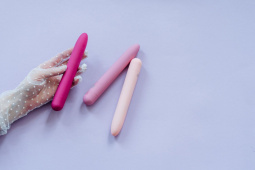 15.08.2022
Something is trendy, and something is everlasting. This is exactly what became the main idea of Lola Games, the European sexual wellness brand, when creating a new Haze vibrator, which filled up the Take it easy collection. A stylish vibrator, shaped like a classic bullet, is able to satisfy an aesthetic request and deliver a pleasant pleasure. Due to its unrealistic shape, it will be a wonderful gift, and you can offer it to your soulmate as the first device, because it will not cause jealousy and familiar associations with the genitals.
Haze is made of recyclable and safe ABS plastic with zero phthalate content and a soft-touch coating that is nice to the touch. Thanks to the fact that the material is non-porous, it is very easy to care for it. Haze is ideal not only for vaginal stimulation, but also for stimulating the clitoris and any other external erogenous zones. Because of its functionality, Haze allows you to get to know your body better, map erogenous zones and develop sensitivity.
The device looks attractive and classy, while it has a very powerful motor with 10 vibration modes, so it is perfect for both beginners and experienced users. The enjoyment of using Haze is guaranteed. And you don't have to worry about batteries once again, because the toy is rechargeable, and the USB cable is included. Do not forget about the possibility of using the toy in the bath, because Haze has a degree of IPX7 water resistance standard, and you can immerse it to a depth of 1 meter, no more than 30 minutes – and Haze is able to bring to the highest degree of pleasure many times faster.
Easy one-button control ensures the simplest possible use. And due to the size of the toy – 18 cm in length and 3 cm in diameter, you can store it anywhere, because it does not take up much space. A satin bag is provided for storage, which is not only a beautiful accessory, but is an important detail to ensure a long life cycle of the device and preserve its quality, because the bag protects the vibrator from direct sunlight, dust, scratches and other minor damage.
Lola Games supports the direction of environmental friendliness, and attaches particular importance to the quality of packaging to preserve the environment. In addition to the satin bags that come with all the devices of the Take it easy collection, the packaging is made of recycled cardboard with 0% plastic.
You can get acquainted with the full collection of Take it Easy toys, as well as products for their care, on the official website, as well as on social networks of the Lola Games brand.