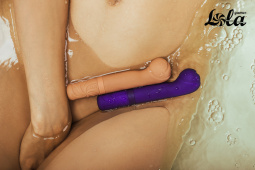 29.03.2021
Feel like a superhero with the Universe rechargeable vibrators!

Sticking to the superhero theme, the Lola Games brand expands the Universe collection with new vibrators. In addition to the original battery-powered mini-vibrators, the collection brings you four brand new, rechargeable ones. The Universe rechargeable vibrators goes in four unique forms. The Rocky's Fairy Mallet hammer (14.7x3.5cm) will help you to get pleasure not only clitorally, but also by affecting the G-spot. The Mamacita's Fantastic Shield (15.2x3.5cm) will completely cover the vulva and will transmit vibrations throughout its surface. Playful Bonbon's Powerful Spear (15.2x3cm) will stimulate the head of the clitoris, wrapping her ears around it. And Airy's Mystery Arrow (15.2x3cm) will pierce the heart of each user just barely touching the sensitive clitoris. Each of the options is available in three colors: strict purple, neon pink, and delicate beige.

The new vibrators are made of hypoallergenic silicone that can literally change reality just by touching the erogenous zone. 10 vibration modes will give you unlimited power of imagination for maximum pleasure. Universe vibrators are multifunctional and suitable not only for clitoral stimulation but also for any delicate areas of the body of both women and men.

Like the prototypes that inspired the Universe superheroines, the vibrators are extremely strong and can withstand any, even the most extreme situations. You can use them even underwater due to to the IPX7 standard - the toys are completely waterproof and can demonstrate their superpowers for an hour. And of course, you can recharge the devices with a convenient magnetic charger.

The Universe collection was created to fight the "Orgasm Gap" - the discrepancy between sexual satisfaction in heterosexual pairs. With the help of new rechargeable vibrators, you will awaken your hidden super-power and dive into the universe of pleasure.

Subscribe to the social networks of Lola Games and stay in touch to be the first to know the brand's news and be aware of all announcements of educational and conversational broadcasts, as well as tips for caring for toys and your body.