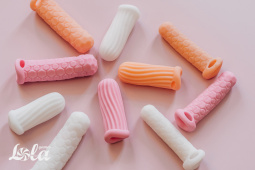 16.08.2022
Reusable Homme penis enlargement sleeves are made of environmentally friendly TPE material that does not contain phthalates. Homme sleeves allow the user to increase the penis by 3 cm in length or up to 1.5 cm in width. Homme Wide has dense walls with a thickness of 7 mm to increase the diameter, and Homme Long has a dense, but soft to the touch built-in extension cord to increase the length. Both versions of the sleeves are available in two sizes, based on the average penis size of most men, which are 9-12 and 11-15 cm. Homme sleeves by Lola Games extend the intimacy time, compensate anatomical inconsistency and stretch perfectly, which makes its usage accessible to every user.

The soft Homme material feels like a second skin, and the double relief on the outside and inside of the sleeve additionally stimulates both the vagina and the penis at the same time. A convenient ring at the base of the toy will securely fix the accesory on the scrotum and the trunk of the penis, which will prevent its rolling during the intimate process.

The fixing ring not only holds the toy, but also strengthens the erection of the active partner, gently squeezing the scrotum. Homme sleeves are moisture-resistant and easy to care for, which will ensure comfortable use throughout the entire life cycle of the accessory.

The design of the sleeves is unrealistic – they will not cause an association of an active partner with a second organ and will not allow you to feel possible inconveniences. Each Homme is available in three delicate pastel colors: white, flesh and pink.

Homme cardboard packages are completely biodegradable, and the accessories themselves are stored in a convenient non-woven bag that will protect the sleeve from direct sunlight, minor damage and rubbing. All basic information with a schematic image of the internal relief and dimensions are displayed on the packaging in the form of minimalistic icons.