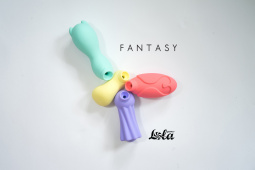 29.03.2021
Did you know, that you can escape into the world of your own fantasies and secret desires not only with the help of a cozy bed and good sleep, but also with the help of a new line of vacuum wave Fantasy stimulators by Lola Games?

Don't worry about safety - the Fantasy vacuum stimulators are made of eco-friendly, hypoallergenic silicone and are able to melt even the coldest hearts due to its 7 modes of wave stimulation, adjustable with just one touch of a button. Despite all the power of the motors of it, the toy does not emit more than 50 decibels, remaining incredibly quiet and delighting girls for an hour without recharging.

The frenzied pace of living in a big city sometimes does not allow you to just stop and relax, giving time to your own desires. However, the clitoral vacuum wave Fantasy stimulator can be used wherever and whenever you want. You can even take it with you on a long trips - Fantasy stimulator easily fits in the palm of your hand and handbags of any size. Now anyone with any sensitivity can get multiple orgasms even underwater thanks to the IPX7 waterproof standard.

Find your fantasy limit - the Fantasy collection of clitoral stimulators is presented in four unique variants, each of which has its own size and diameter of the spout. Awaken your primal passion with DINO (12.5 cm), soar to the seventh heaven with COLIBRI (10.4 cm), experiment with exotic OCTOPY (10.3 cm), and take hot baths with little DUCKY (8.3 cm). Whatever you choose, each of the options will be the perfect guide to the world of pleasure thanks to its spouts, whose diameter varies from 104 to 107 mm.