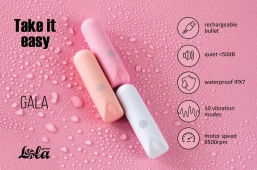 25.07.2022
Why is the Gala rechargeable vibrating bullet from the Take it Easy collection such an indispensable accessory?

POWERFUL STIMULATION – Gala bullets are equipped with a rechargeable motor that sends intense vibrations to sensitive points of the body at a speed of 9500 revolutions per minute. Each of the 10 bright vibration modes will pointwise stimulate the clitoris or discover a map of the erogenous zones of partners, awakening the sleeping points of the body and increasing the sensitivity of nerve endings. By experimenting with each pattern, each user will be able to customize the toy individually, based on their feelings – from a gentle to a brighter stimulation.

COMFORT OF USE AND ERGONOMICS – despite its power, the Gala vibrating bullet makes almost no noise, not exceeding <50 decibels even at the latest speeds. A small bullet size of 6.5 cm will be an ideal travel or bed companion. Unlike realistic toys, the bullet has a neutral, but not lacking of aesthetics appearence, which will not cause any zealous thoughts. Gala bullets are made of velvety ABS with soft-touch coating and zero phthalate content.

WATERPROOF – the vibrating bullets from the Take it Easy collection are made according to the IPX7 waterproof standard, which allows you to enjoy every second spent for stimulation, both in shower or bath. Thanks to an additional silicone membrane inside the device, Gala will be protected from moisture even at a depth of one meter.

CONVENIENT STORAGE WITH ENVIRONMENTAL PROTECTION – each of the three vibropules, made in delicate pastel colors (yogurt pink, white and peach), is carefully stored in a biodegradable fabric bag inside a completely recycled cardboard package. To reduce the level of paper consumption, the Lola Games team has provided electronic instructions for the usage and care of the toy, placed on the packaging in the form of a QR code. All the basic information about the toy is displayed on the sides of the box in the format of intuitive minimalistic icons.