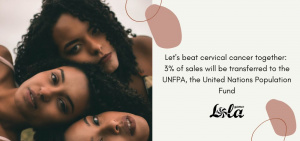 19.01.2023
There are problems that can be solved by making them visible. Cervical cancer is a slow-growing cancer but it is the second most common cause of cancer death among women. Every year, there are more than 38,000 new cases and 18,000 deaths from cervical cancer. And all women are at risk for developing cervical cancer, especially between 35 and 45 years of age.
You should know that cervical cancer is treatable if diagnosed early. Screening and HPV vaccination make cancer preventable.
January is Cervical Cancer Awareness Month. Let's beat cervical cancer together: 3% of sales of Lola Games brand products will be transferred to the UNFPA, the United Nations Population Fund.