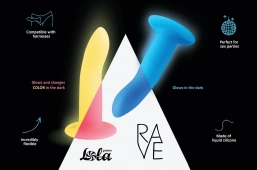 25.07.2022
Lighten up this night with unrealistic dildos from the glowing in the dark Rave collection!

Each of the two dildos is made of liquid silicone – an incredibly soft and seamless hypoallergenic material that compatible with any lubricants and can withstand extremely low and high temperatures.

Thanks to the fluorescent powder in the composition of the material, the toys have the ability to absorb daylight, illuminating in the dark and even changing their color. Made in a delicate pink color, Light Keeper is able to be painted in sparkling yellow, gathering all the looks at a party or a themed sex event. And the hypnotic blue Neon Driver will become a bright ray of light, illuminating the darkest and loneliest nights.

Both dildos have an identical size – 13.3 cm in length and 2.8 cm in diameter, which will allow you to use the toy for anal practices as well. A tapering and slightly curved head is suitable for both point stimulation of the G-spot and prostate stimulation. The neat unrealistic shape of the toy will not cause jealousy in the partner or associations with the penis when using a dildo by a man. The powerful flat suction cup is firmly fixed on any flat surface, without taking away its working length from the toy, and turns Rave into an ideal strap-on, combined with any harness panties.

To increase social responsibility, the Lola Games team is doing everything possible to preserve natural resources, refusing to use plastic and overspending paper. All dildos from the Rave collection are carefully stored in a biodegradable cloth bag inside a completely cardboard package made of recycled material. You can find out all the detailed information about the storage and care of the toy by scanning the QR code on the side of the box.