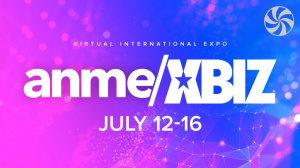 22.07.2021
Global network.

The year that has passed under the sign of lockdown has affected almost all business segments, transforming established paradigms and forcing them to adapt. And the heads of the leading B2B ANME and XBIZ events came to this conclusion, collecting their best practices and an extensive list of exhibitors to make the largest virtual exhibition of the adult industry in history, which was attended by representatives of the Lola Games brand.

From July 12 to 16, ANME/XBIZ managed to unite industry representatives using its own video conferencing platform, with a schedule of personal meetings and interactive booths where distributors from different parts of the world could interact with each other.

Within the framework of 21 online meetings, the Lola Games team managed to share their experience with the largest representatives from the USA, Canada, Australia, Mexico, and Latin America. The brand's team introduced the foreign audience to such original intimate toy collections as Wand, Universe, Marshmallow, Pure passion, MiMi Animals and the Natural, winner of the MUSE Creative Awards 2021.

As a result of the event, the participants were impressed by the presented products, noting their individuality and difference from the established American market, showing their interest in friendly relations and further cooperation.

Lola Games is a guarantee of quality in the market of sexual wellness products. The brand's team is constantly monitoring the development of modern technologies and implements modern solutions in its devices in order to present the most functional and aesthetic products to the market. And the last ANME/XBIZ exhibition became the starting point for the inevitable growth and expansion of the influence of Lola Games in the segment. The brand has already managed to reach heights in Europe and the CIS countries, and now it is being thought about and hotly discussed on several continents at once.