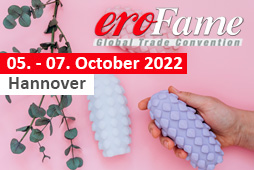 05.09.2022
EroFrame is a trade convention for the market of sexual–wellness products and accessories of the lifestyle segment, which has been delighting the guests of the exhibition with exhibitors of more than 200 international participating companies from around the world for 12 years. And we are pleased to announce that this October Lola Games returns to the EroFrame exhibition halls, which were closed for two whole years due to the pandemic.

This year, EroFrame will open its doors from October 5 to 7 in the new Fairground Hanover Hall 4. Hanover is traditionally home to many exhibitions and offers a large number of restaurants and bars for business dinners and meetings, which will take place in the evenings during the exhibition once again.

For Lola Games, this is an opportunity to remind about yourself, to demonstrate many years of experience, share the latest achievements that the brand has been working hard on for the past two years, as well as demonstrate all current product lines, including novelties that our European colleagues from the adult industry and our customers will be able to evaluate and discuss. On EroFrame 2022, you will be able to see at Booth 96:

Collection of modern and eco–friendly BDSM accessories - Party Hard - nominee for the XBIZ Europe Awards 2022; RedDot 2021 winner line - Marshmallow gentle masturbators; Muse Creative Awards 2021 winner – Natural Seduction strapless anal strap–ons; unrealistic sleeves for penis enlargement Homme; ultra-realistic Satisfaction masturbators; collections of anal jewelry and accessories Diamond, Emotions, First Time and Spice it Up; erection rings and sleeves for double penetration of Pure Passion; heating, dashing and flexible WANDs; vaginal balls and cups of Love Story and Natural Wellness; vacuum wave stimulators and flexible Fantasy vibrators in the form of cute little animals; a collection of must-have Take it Easy devices with an amazing functionality; as well as novelties in the form of unrealistic dildo lines Flow and Rave, which are able not only to glow, but also to change their color in the dark.

Lola Games is a guarantee of quality in the market of products for sexual health. The brand team constantly monitors the development of technologies and implements modern solutions in their devices in order to present the most functional and aesthetic products to the market.

We hope to see you at Booth 96 at Fairground Hanover Hall 4, where you can get acquainted with the brand's assortment and learn more about the new eco-program, hearing from the Lola Games team about social responsibility and how to apply an environmental approach to all aspects of their products.