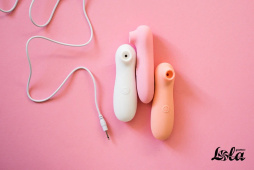 16.12.2021
Lola Games attentively listens to its users and regularly upgrades their favorite collections. This time, the expansion affected the popular collection Take it Easy. Meet the new powerful vacuum wave stimulator Fay!

An incredible advantage over analogues! The vacuum-wave stimulator Fay is rechargeable, and powered by a USB cable, which is already included in the kit and charges the toy in just an hour.

Fay is not just a compact, but also an aesthetically attractive toy. It is great for both solo stimulation and foreplay with a partner, by making a good effect on the most sensitive female organ.

Vacuum-wave stimulators Fay are made of soft hypoallergenic silicone - an eco-friendly material with zero phthalate content. You will be able to experience the full range of pleasures with 10 modes of vacuum-wave stimulation, which can be easily adjusted by pressing just one button.

Fay by Lola Games is an easy-to-care and portable toy - its length is only 12.3 cm, and the width is 3.8 cm. The diameter of the soft and flexible spout is only 1 cm. Take the toy with you anywhere – Fay is not just protected from splashes, it's made according to the IPX7 standard, which allows you to safely immerse it to a depth of 1 meter. And thanks to the simple design of the stimulator, it is incredibly convenient to take care of its spout.

Vacuum-wave stimulators Fay from Take it Easy are presented in three color variations: peach, light pink and milky-white, that not only expands the color spectrum of the collection and allows choosing the most suitable option for each user, but also makes it easier to recognize a toy from its battery-powered analog.

Following the eco-friendly standards, Lola Games makes packaging of its toys from recycled cardboard. Fay is not an exception. In addition to the eco-friendly box, each stimulator is packed in a satin storage bag, which is not just a beautiful accessory, but also reliable protection from direct sunlight, dust, scratches and other minor damages. And, which is important, reduces the manufacture of plastic disposable packaging, what causes a good effect on the environment.

You can see the full collection of Take it Easy toys, as well as products for their care, on the official website and on social networks of the Lola Games brand.