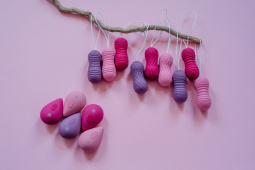 15.08.2022
The popular Take it Easy collection of the European sexual wellness brand Lola Games has recently been supplemented, which many have been waiting for. Everyone's favorite Dea and Era vibrating vaginal balls with a remote control and unusual functions have won the hearts of their users. Small, stylish and convenient. But their secret trump card is the functions of vibrating rotation and vibrating pulsation, which surprise and fascinate.
Now, keeping the advantages of its predecessors, a new Ray vibrating ball has appeared in the collection. This model is trickier – it's not so obvious to see, but you can feel what kind of function this toy has – Ray has 10 modes of vibrating circulation, that is, circular movements occur inside the ball itself. They perfectly stimulate the vaginal walls, which is important both for training the pelvic floor muscles and for getting pleasure.
All three models of balls are rechargeable and made of silicone, pleasant to the touch and completely safe for the delicate flora of the vagina. A USB cable for device charging is already included. The remote control works at a distance of up to 8 meters, so the toy is perfect even for a couple games even in public places. A durable silicone string is provided for comfortable extraction of the ball.
Vibrating balls from Lola Games are aesthetically nice, and, moreover, they are also very quiet – toys do not emit more than 50 dB. The motor of Dea, Era and Ray, despite its quietness, is very powerful and capable to speeds up to 12,500 rpm. And if you want to use vibrating balls in the shower or take them with you to the bath – they are made according to the IPX7 waterproof standard, and you can safely immerse them in water to a depth of 1 meter and use them under direct water jets.
Each vibrating vaginal ball with remote control of the Take it Easy collection is now presented in three colors – wine red, pink and purple, so everyone can choose the most fitting one for themselves.
Lola Games is actively developing in the direction of eco-friendliness and continuously improves its packaging and storage methods of intimate toys. All the devices of the Take it Easy collection are carefully packed in an eco-friendly cardboard box with zero plastic content, and each vibrating ball comes with a satin storage bag, which is not just a beautiful accessory, but an important detail in the storage of the toy, ensuring its long service life and protecting it from direct sunlight, dust, scratches and other minor damage.
You can get acquainted with the full collection of Take it Easy toys, as well as products for their care, on the official website, as well as on social networks of the Lola Games brand.