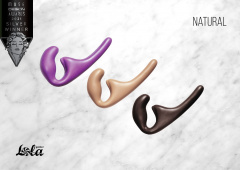 29.03.2021
In the 21st century, humanity is faced with new responsibilities, challenges, and tasks, and this has led to the fact that life has become faster and more chaotic. Finding a balance between the pace of the big city and the satisfaction of your wildest sexual desires becomes almost an impossible task. That's why Lola Games presented their line of strapless strapons called Natural Seduction.

In April 2021, the Natural Seduction collection won the silver award of the international Muse Creative Awards in the "product design" category, beating more than a hundred competitors from all over the world. Following the brand's philosophy, as well as modern trends, Lola Games managed to find the perfect balance between quality and visual aesthetics of the product.

Made of eco-friendly, hypoallergenic medical silicone, Natural Seduction strapons are able to satisfy both partners at once, which can be both lesbian couples and heterosexual lovers who want to try themselves in pegging.

Thanks to constant research in the fields of sexology and medicine, as well as feedback from focus groups, Lola Games was able to model an optimal, anatomically correct toy. The well-adjusted weight and shape of Natural Seduction allow you to comfortably hold a big part of the strap-on with the muscles of the vagina, regardless of the training level. And for the penetrating part, it has a diameter of 2.5 cm and a length of 10 cm, which is the ideal size for anal stimulation. In addition, the part of the strap-on that follows from the narrow isthmus has a special relief for stimulating the clitoris of the active partner.

Natural Seduction toys are carefully packed in an eco-friendly cardboard box with zero plastic content and are available in three color variations, which are royal purple, strict black, and tender beige. The Natural Seduction strap-on is a great solution for progressive sexual partners because relevance and mutual pleasure are not just words for Lola Games.