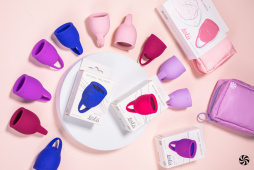 25.08.2021
The new collection of menstrual cups "Natural Wellness" of Lola Games is dedicated to contemporary issues of women's intimate hygiene and current environmental issues. The cups are not just intimate hygiene item for collecting secretions, but a completely new experience of periods.

The Natural Wellness collection includes 5 sets of 2 cups, 15 and 20 ml, packed in a storage case. For those who already have experience in using menstrual cups or just sure about the most suitable size for themselves, every model can be purchased by piece. These cups' sizes are optimal, even with strong periods and they provide protection for up to 12 hours.

The ergonomic kit case is made of a lightweight waterproof material and is not exposed to heat and light. The case is durable and dries quickly, so it can be washed in the washing machine without losing its shape. And this is not just a beautiful accessory - in a situation where there is no possibility to wash the cup, the bag provides reliable protection of your belongings from stains, as the material won't allow them to leak out.

All Lola Games' Natural Wellness cups are presented in five colors, which have the names of flowers: iris - royal blue, peony - deep burgundy, tulip - bright purple, orchid - soft lavender and powder-colored magnolia.

What are the advantages of reusable intimate hygiene products Natural Wellness? They are made of 100% safe medical silicone that supports the natural hydration of the vagina, as well as prevents the air penetration to the secretion, significantly reducing the risks of SSH. Silicone is an absolutely non-porous material, and for your maximum confidence in the sterility of the cup, you can boil it before and after the menstrual period. The safety of the material of Natural Wellness cups for the skin and mucosa is confirmed by REACH certification.

The Natural Wellness menstrual cups are not sensed during use and are completely invisible under the underwear, so you won't have any discomfort while wearing them. They are also suitable for women who lead an active lifestyle, and it's a good hygiene product for swimming, because it won't be visible under the swimsuit, and you can be free from changing it after each dive into the water. With Natural Wellness, you can keep on doing your usual daily routine and not give up your favorite activities.

Reusable intimate hygiene products are becoming increasingly popular due to the urgent issue of environmental pollution. The service life of Natural Wellness menstrual cup is up to 10 years. This means that one cup can replace thousands of personal hygiene products for you, not to mention significant budget and your time savings for buying disposable products.

Lola Games is the brand that follows the development of modern technologies and constantly improves its products, creating functional and modern variants that will bring maximum benefit to users with minimal harm to the environment. Lola Games chooses eco-friendly packaging for its products, trying to completely eliminate the content of plastic, because the company believes in the possibility of preserving nature through limiting the manufacturing of disposable products.