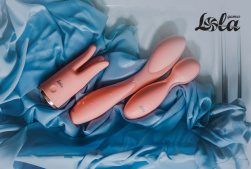 30.03.2021
Shape of water

Dive into the world of sweet fantasies again with the renewed collection of incredibly flexible Shape of water vibrators by Lola Games. Each of the 3 new Shape of water vibrators is completely waterproof thanks to the IPX7 standard and can work for an hour without recharging.

The Geyser heating vibrator, like all the previous toys from the Shape of water collection, is made of an incredibly soft innovative liquid silicone. Despite all its power, the toy always remains quiet. In addition, Geyser is able to heat up to a temperature of +42°. The warmth of the toy does not cause discomfort, but only opens up new levels of pleasure. The Geyser has 10 vibration modes combined with the heating function. The total length of the device is 20.8 cm, and the diameter is 3.8 cm.

Complements the collection of Ocean mini-wand. The compact but powerful toy will give you great pleasure with its flexible head. The vibration massager has 10 vibration modes and is able to affect the erogenous zones of both men and women. Due to its size, the vibrator is easy to take a trip with. The length of the product is only 13.2 cm, and its diameter is 3.8 cm.

One of the new Shape of water vibrators is the Coral unisex vibration stimulator. In addition to vibration, the toy also has circulation modes. The three stimulating parts of the coral move in a circle, creating massage movements. Coral gently grabs the skin, kneading it and affecting the nerve endings. As with the previous devices, Coral has a powerful motor with 10 vibration modes hidden inside. The length of each stimulating part is 4 cm, the total length of the toy is 10.2 cm, and the diameter is 4.2 cm.

Taking care of their customers, Lola Games continuously improves their packaging and storage methods for intimate toys. All the devices of the Shape of water collection are carefully packed in an eco-friendly cardboard box with zero plastic content, and each vibrator comes with a satin storage bag.