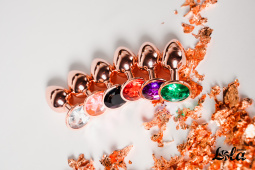 15.08.2022
Lola Games Diamond is a collection of elegant jewelry for anal stimulation, which has been replenished with a line of rose gold metal anal plugs with a crystals called Diamond Shine. Each toy is named after a gemstone, which color is identical to the crystal inlaid in the base of the plugs.

Diamond jewelry is perfect for those who are ready to diversify their sex life, feel the feeling of double penetration, and also for users, who wants to hint their partner what kind of caresses they want to receive.

Diamond Shine is made of hygienic, non-oxidizable metal and is made in S and L sizes. The length of the small plug is 7.2 cm, and the diameter is 2.7 cm. The length of large Diamond Shine plugs is 8.3 cm, and the diameter is 3.3 cm.

Crystals in the restrictive base of jewelry are diverse in colors: charming green, delicate blue, bright red, feminine pink, alluring purple, strict black and classic transparent. A reliable restrictive base will make it easy to control the depth of penetration.

Diamond butt plugs by Lola Games do not contain phthalates and are suitable for long-term wear. Each piece of jewelry is carefully packed in eco-friendly cardboard packaging without plastic content, which contains all the basic information about the toy in the form of minimalistic icons.

Lola Games is a European brand of sexual wellness products that has been repeatedly awarded international design awards for its principles of environmental friendliness and high quality. Stay in touch on social networks and media resources of the brand, as well as on the official website, so as not to miss news, informational posts and announcements of conversational broadcasts and webinars within the framework of the Adult Profi Online educational platform.