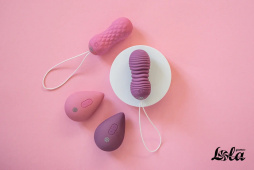 16.12.2021
When it seems to you that it is difficult to surprise in the world of sexual wellness market, Lola Games breaks this stereotype by presenting its novelties in the Take it Easy collection -vibrating vaginal balls with remote control Dea and Era. This is a new type of toys, a new kind of pleasure and a new level of orgasms.

These vaginal balls are made of soft hypoallergenic silicone, and the remote control is made of ABS plastic with soft-touch finish. All Dea and Era materials are absolutely phthalate-free and completely safe. The vibrating balls are rechargeable, and the USB cable is already included in the kit. The remote control is powered by two AAA batteries, and it's able to work at a distance of up to 8 meters, so that partners can be in various rooms and give each other pleasure for a whole hour, even despite the distance between them.

Dea and Era are very compact and convenient. Their length is only 8.3 cm, and their diameter is 3.4 cm, so you can safely take them with you anywhere, because they will easily fit even in the smallest handbag. For comfortable extraction of the toy, a handy rope is provided at the base. The vibration vaginal balls Dea and Era are aesthetically beautiful, but in addition they are also very quiet - toys do not make noise louder than 50 dB.
The motor of the Dea and Era, despite its noiselessness, is very powerful and is capable of speeds up to 12,500 rpm. And if you want to use vibrating balls in the shower or take them with you to the bath- Dea and Era are made according to the IPX7 waterproof standard, and you can safely immerse them in water to a depth of 1 meter and use them under direct water jets.

But what makes these toys by Lola Games so special? Their secret ingredient is rotation and pulsation functions. Both toys have 10 vibration modes, but Dea has a rotation function- it can turn its body around the central axis. And Era has a pulsation function - it can make repetitive, rhythmic translational movements. This is not only exciting, but allows you to enhance the enjoyment and experience completely new feelings from the use of toys.
These vibrating vaginal balls with remote control from the Take it Easy collection are perfect for both solo stimulation and foreplay with a partner, as well as for effective pelvic floor muscle training.

Taking care of their customers, Lola Games continuously improves their packaging and methods of storing the toys. All the devices of the Take it Easy collection are carefully packed in an eco-friendly cardboard box with zero plastic content, and each vibrating ball comes with a satin storage bag that protects the toy from direct sunlight, dust, scratches and other minor damages.

You can see the full collection of Take it Easy toys and the products for their care on the official website and social networks of the Lola Games brand.