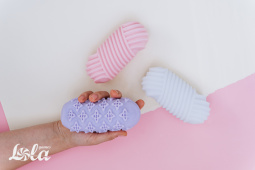 16.08.2022
In each Lola Games product you can find a combination of functionality and visual aesthetics. And the Marshmallow collection is no exception. The design of unrealistic masturbators from Lola Games is the perfect embodiment of the brand's philosophy, which is aimed at detabuization of self-love and popularization of products for sexual health.

In addition, the Marshmallow collection was awarded by the Red Dot Design Awards 2021, one of the largest and most representative awards in the field of design, winning the attention and hearts of the jury members among hundreds of other applicants. In 2022, Lola Games updated the Marshmallow collection with new, full-size masturbators.

Two-sided full-size Marshmallow Maxi masturbators have dense walls with a thickness of 6 mm, as well as two reliefs at once, whose thickness range from 3 to 5 mm, which will certainly lead any user to the peak of pleasure.

Marshmallow can be used both solo and in a couple to help diversify the sexual life in a relationship, and allow its user to try new stimulation. Marshmallow Maxi will also be an ideal gift as the first intimate toy.

Marshmallow Maxi masturbators are made of elastic and velvety TPE, and are also presented in six variations that differ from each other in their shape, relief and color. The total length of each of the six masturbators is 14.5 cm, which allows them to tightly grasp the entire trunk of the penis, as well as stretch to any size of the penis.

Each toy is carefully packed in a stylish cardboard tube, which ensures their convenient storage. In addition, all Marshmallow tubes are made in pleasant pastel colors and have all the basic information about the product in the form of minimalistic icons. One glance is enough to understand that sweet fantasies and gentle caresses are not just a turn of speech!

Inside the box, the masturbators are carefully placed in a soft lodgment of isolon and wrapped in a non-woven bag that protects the toy from sunlight, dust and minor damage.