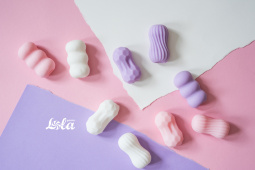 29.03.2021
Sweet fantasies and gentle caresses are not just a figure of speech, but a brand new collection of Marshmallow masturbators from Lola Games, which look like a real dessert!

All the masturbators from the new Marshmallow collection are made of velvety TPE material that does not contain phthalates. This material is soft and pleasant to the touch, and just simple contact with it resembles the touch of the skin. These little marshmallows are double-sided, which means that you can use them on either side, and each of the two reliefs will certainly lead you to the peak of pleasure.

You can use Marshmallow both solo and in pair. The toy is compact, and it is easy to take with you on long business trips or family travels. The length of each Marshmallow is 8 cm, and the diameter varies from 3.2 cm to 4.2 cm, but the toy stretches perfectly and will fit a penis of any size due to the elastic TPE.

Lola Games' Marshmallow masturbators are presented in three color variations, which are different from each other in their shape and relief. Each toy is carefully packed in a cardboard tube, which provides comfortable storage, and the simple shape of the marshmallow is incredibly easy to care for as well: just rinse the masturbator with warm water before and after use, and then dry and treat it with a special powder for intimate toys.