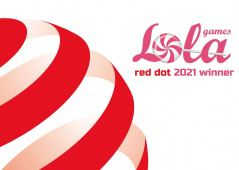 17.08.2021
International design competitions are not only the best way to distract from the pandemic, whose impact is increasingly noticeable in business and modern life, but also a broad springboard for interaction with new partners, as well as an opportunity to declare ourselves and demonstrate our many years of experience, achievements and the results of the hard work of the brand team.

In April 2021, Lola Games won the Muse Creative Awards - one of the largest and most representative awards in the field of design, winning the attention and hearts of the jury members and reputable influencers and professionals in the field of creativity.

And this August, the brand earned the award of the largest and most famous Red Dot Design Awards - an international design competition which is held annually by the Nordrhein Westfalen Design Center in Germany. The Red Dot Design Award is the most popular quality mark. And in order to evaluate the candidates for the victory as objectively as possible, the award is divided into 3 disciplines in 37 areas.

Every year, more than 10,000 companies and design professionals from 100 countries take part to be evaluated by competent specialists and expert juries in the field of product design, communication design and design concept. And only the winners have a chance to be presented at the Red Dot Design Museum in Essen.

Taking part in the Packaging Design category, the Lola Games team had no doubt that the victory would go to the collection of unrealistic Marshmallow mini-masturbators made of soft and velvety TPE material, which look like a real dessert. When developing the product, Lola Games set the task of detabuizing self-love at the forefront, and that is why you can find the perfect combination of visual aesthetics and functionality in Marshmallow packages.

Each toy is carefully packed in stylish cardboard tubes that provide convenient and safe storage. In addition, the biodegradable tubes are made in soft pastel colors, following the delicate Marshmallow color palette, and all the basic information about masturbators is displayed on the packaging in the form of minimalistic icons. One glance is enough to make sure that sweet fantasies and gentle touches are not just a turn of speech! You can read about what else struck professional critics and jury members in the Red Dot yearbook, which will be published before the end of 2021.

Winning the Red Dot Design Award means that the Lola Games team belongs to the best specialists. And if the Muse Creative Awards gave a huge impetus to the brand's movement forward, then the victory in such a prestigious award as the Red Dot Design Awards consolidated the status of Lola Games as a guarantee of quality in the market of sexual wellness products, which won international attention and trust.