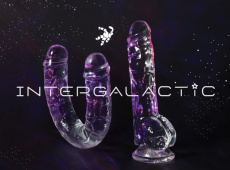 30.03.2021
For the second century, people have been exploring space, and recently an important event happened - the first launch of astronauts into space by a commercial company. For all of humanity, this is the first step towards an affordable future for space tourism!

Inspired by the story of space travel, the Lola Games brand has developed an incredible collection of Intergalactic, which intertwines realism with futurism. The Intergalactic collection is a collection of 9 flexible, realistic transparent dildos made of hygienic, non-porous TPR material. It is easy to care for. Just wash the dildo with warm water, and then treat it with an intimate toy cleaner, which will gently clean and preserve its durability. Each dildo has its own purpose – the collection offers options for both vaginal, anal and double stimulation.

When developing the Intergalactic collection, the main wishes of the consumer were taken into account. For heterosexual couples, it is important that the toy does not exceed the size of the partner's penis. For the girls, when they choose a toy for solo stimulation, they often choose sizes that slightly larger than the average penis. That is why the sizes of our toys vary from 12 to 18 cm in working length and from 2.5 to 3.7 cm in diameter. And thanks to the suction cup at the base of the dildo, you can securely attach the toy to any flat surface, as well as panties for a strap-on.