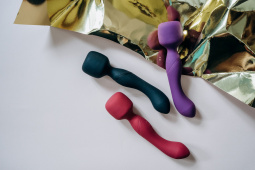 29.03.2021
«Name's Wand. Heating Wand»

Spring has burst into our lives, and the temperature outside is rising every day. But what about your body temperature? The heating double-sided WAND is here to help you throw off the shackles of a prolonged cold winter.

Lola Games wands are made of eco-friendly, hypoallergenic silicone and are able to "mix business with pleasure" as your personal massager and sex toy. Thanks to the convenient control, two super-powerful rechargeable WAND motors will give great pleasure to users with any sensitivity for a whole hour without recharging. Each of the motors provides 10 vibration modes.

We are sure that the wand's fully movable head will melt everyone's heart by heating up to 42 degrees. You can use the WAND even underwater due to the toy's IPX7 waterproof protection, which also makes it easy to wash it after a massage and hot nights.

Thanks to the WAND size of 22 cm, the toy is not only comfortable but also one of the most compact in its genre. Lola Games wands are available in three colors: strict black, royal purple, and passionate bordeaux. Each device is carefully packed in an eco-friendly cardboard box with zero plastic content and stored in a satin bag along with a convenient magnetic charger.

Lola Games is a well-thought-out toys and accessories due to their original design and high quality. You can get acquainted with the WAND line and other collections on the official website and on the brand's social networks.