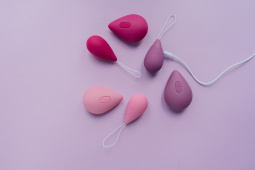 13.05.2021
The BEST vibrating egg with a remote controller is made of skin-and mucosal-friendly silicone. Just take it easy – 10 vibration modes, switchable with the remote controller, will give pleasure to the user with any sensitivity.

And thanks to the soft and comfortable cord at the base of the toy, the BEST can be easily and comfortably removed after use. The vibrating eggs from the Take it easy collection are equipped with a rechargeable, quiet motor that can run for two hours.

The BEST vibrating eggs are made according to the IPX7 waterproof standard. Be welcome to experiment and train your pelvic floor muscles in the shower or warm bath.

Diversify your intimate games with the Take it easy collection. You can stimulate any external erogenous zones, or transfer control of the remote controller to your partner.

The remote controller is capable of transmitting a signal at a distance of up to 8 meters. The BEST remote controllers are powered by two AAA batteries and made of velvety ABS plastic with zero phthalate content. ABS plastic is not only pleasant to the touch but also protected from splashes.

Treat yourself on a long business trip or a hot traveling – thanks to its size, the BEST will fit even in the most compact women's handbag. The length of the vibrating egg is only 6 cm, and the size of the remote controller is 6.8 cm.

You can get acquainted with this and many other collections on the official website, as well as on the brand's social networks. Lola Games is a guarantee of quality in the market of sexual wellness products. During its existence, the brand has reached heights in Europe and in the CIS countries. Lola Games follows the development of technologies and constantly implements modern solutions in its devices in order to present the most functional products to the market.