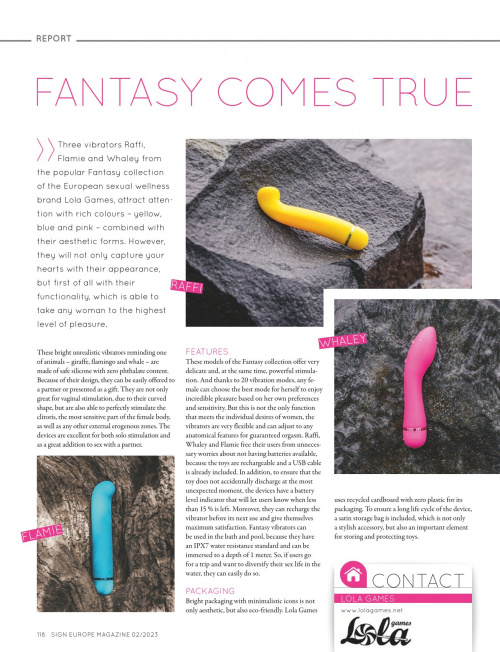 Fantasy comes true
Sign magazine, February 2023
For your convenience, we publish the full text of the article here.

Three vibrators Raffi, Flamie and Whaley from the popular Fantasy collection of the European sexual wellness brand Lola Games, attract attention with rich colors – yellow, blue and pink – combined with their aesthetic forms. But they are not only get your hearts by their appearance, but, first of all, it's their functionality, which is able to bring any woman to the highest level of pleasure.

Bright unrealistic vibrators reminding animals – giraffe, flamingo and whale, are made of safe silicone with zero phthalate content. Because of their design, they can be easily offered to a partner or presented as a gift. They are great not only for vaginal stimulation due to its curved shape, but are also able to perfectly stimulate the clitoris, the most sensitive part of the female body, as well as any other external erogenous zones. The devices are great for both solo stimulation and will be a great addition to sex with a partner.

This models of the Fantasy collection have a very delicate and, at the same time, powerful stimulation. And thanks to 20 vibration modes, any female can choose the best mode for herself to have an incredible pleasure based on her own preferences and sensitivity. But this is not the only function that meets the individual desires of women, vibrators are very flexible and can adjust to any anatomical features for guaranteed orgasm.

Raffi, Whaley and Flamie free their users from unnecessary worries about charging, because the toys are rechargeable and a USB cable is already included. And so that the toy does not accidentally discharge at the most unexpected moment, the devices have a battery level indicator that will let you know when less than 15% is left. And you can recharge the vibrator before the next use and give yourself maximum satisfaction.

Fantasy vibrators can be used in the bath and pool, because they have an IPX7 water resistance standard and can be immersed to a depth of 1 meter. So, if you go for a trip and want to diversify your sex life in the water, you can easily do it.

Bright packaging with minimalistic icons is not only aesthetic, but also eco-friendly. Lola Games uses recycled cardboard with zero plastic for its packaging. To provide a long life cycle of the device, a satin storage bag is included, which is not only a stylish accessory, but also an important element for storing and protecting toys.