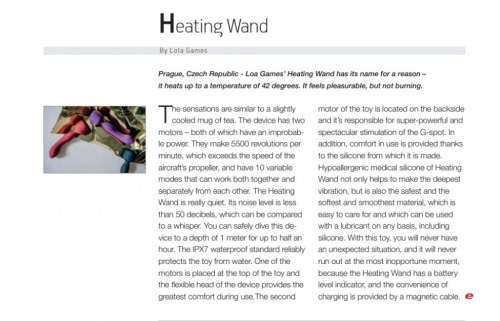 Heating Wand
EAN magazine, November 2022
For your convenience, we publish the full text of the article here.

Deep vibrations, powerful clitoral stimulation, heating function and strong stimulation of G-spot on the other hand. Also known as Heating wand – the main character of Wand's collection by Lola Games.
Heating Wand has its name for a reason – it heats up to a temperature of 42 degrees. It feels pleasurable, but not burning. The sensations are similar to a slightly cooled mug of tea.
The device has two motors – both of which have an improbable power. They make 5500 revolutions per minute, which exceeds the speed of the aircraft's propeller, and have 10 variable modes that can work both together and separately from each other.
Heating Wand is really quiet. Its noise level is less than 50 decibels, which can be compared to a whisper. If any sounds can make your process public, then only your moans of pleasure.
You can safely dive this device to a depth of 1 meter for up to half an hour. The IPX7 waterproof standard reliably protects the toy from water.
One of the motors is placed at the top of the toy and the flexible head of the device provides the greatest comfort during use.
The second motor of the toy is located on the backside and it's responsible for super-powerful and spectacular stimulation of the G-spot.
In addition, comfort in use is provided thanks to the silicone from which it is made. Hypoallergenic medical silicone of Heating Wand not only helps to make the deepest vibration, but is also the safest and the softest and smoothest material, which is easy to care for and which can be used with a lubricant on any basis, including silicone.
With this toy, you will never have an unexpected situation, and it will never run out at the most inopportune moment, because the Heating Wand has a battery level indicator, and the convenience of charging is provided by a magnetic cable.
Lola Games is a sexual wellness brand, which is a representative of the eco–friendly direction, so the Heating Wand's packaging is made of completely recyclable cardboard with zero plastic content. And to make sure that the toy is properly stored to keep its quality, Lola Games packs the toy in a stylish satin bag.
Heating Wand is the device that's absolutely essential and with which you can create a long-lasting relationships. This will intrigue and attract the attention of even the most sophisticated customers of your store.