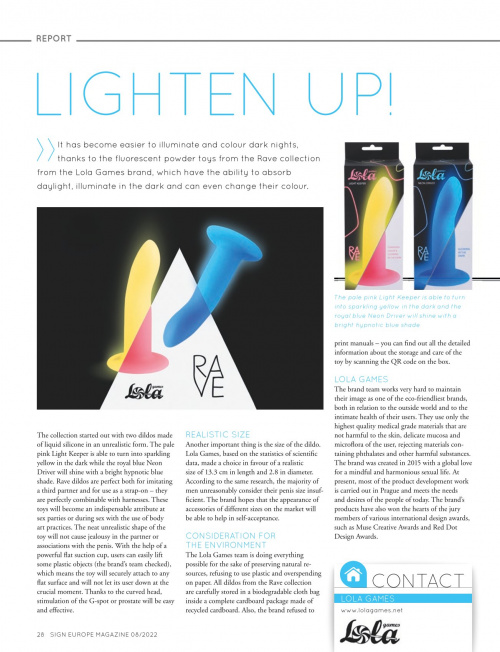 Lighten up
Sign Magazine Europe, August 2022
For your convenience, we publish the full text of the article here

Lighten up!

It has become easier to illuminate and color dark nights. Thanks to the fluorescent powder, toys from the Rave collection from the brand Lola Games have the ability to absorb daylight, illuminating in the dark and even changing their color.
The collection started with two dildos made of liquid silicone in an unrealistic form. The pale pink Light Keeper is able to turn into sparkling yellow in the dark while the royal blue Neon Driver will shine with a bright hypnotic blue shade.
Rave dildos are perfect both for imitating a third partner and for use as a strap-on - they are perfectly combined with harnesses.
These toys will become an indispensable attribute at sex parties or during sex with the use of body art practices.
The neat unrealistic shape of the toy will not cause jealousy in the partner or associations with the penis. With the help of a powerful flat suction cup, you can easily lift some plastic object (the brand's team checked), which means the toy will securely attach to any flat surface and will not let you down at the crucial moment.
Thanks to the curved head, stimulation of the G-spot or prostate will be easy and effective.
What else is important is the size of the dildo. Lola Games, based on the statistics of scientific data, made a choice in favor of a realistic size of 13.3 cm in length and 2.8 in diameter. According to the same researches, the majority of men unreasonably consider their penis size insufficient. Brand hopes that the appearance of accessories of different sizes on the market will be able to help in self-acceptance.
The Lola Games team is doing everything possible for the sake of preserving natural resources, refusing to use plastic and overspending paper. All dildos from the Rave collection are carefully stored in a biodegradable cloth bag inside a completely cardboard package made of recycled cardboard. Also, the brand refused to print manuals - you can find out all the detailed information about the storage and care of the toy by scanning the QR code on the box.