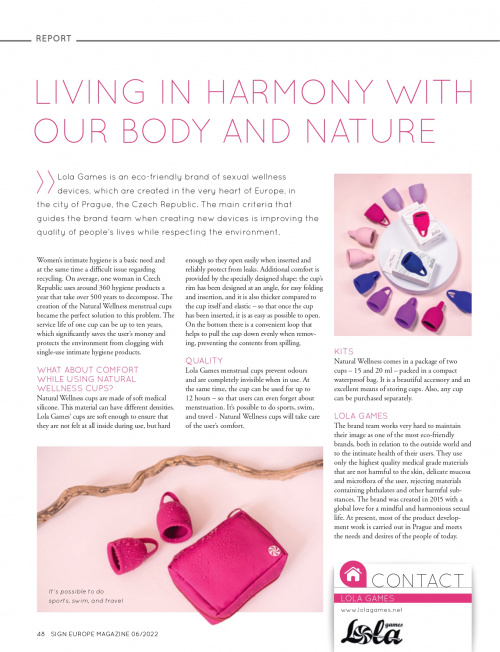 Living in harmony with your body and nature
Sign Magazine Europe, June 2022
For your convenience, we publish the full text of the article here

Lola Games is an eco-friendly brand of sexual wellness devices, work on which is carried out in the very heart of Europe, the city of Prague, the Czech Republic. The main criteria that the brand team is guided by when creating new devices are improving the quality of people's lives while respecting the environment.
Women's intimate hygiene is a basic need and at the same time a difficult issue regarding recycling. On average, one woman in Czech Republic use around 360 hygiene products a year that take over 500 years to decompose.

Creation of Natural Wellness menstrual cups became the perfect solution of this problem. The service life of one cup can be up to 10 years, which significantly saves your money and protects the environment from clogging with single-use intimate hygiene products.

What about comfort while using Natural Wellness cups?
Natural Wellness cups are made of soft medical silicone. This material can have different densities. Lola Games' cups are soft enough so they are completely not felt inside during use, but hard enough so they opens easily when inserted and reliably protect from leaks. Additional comfort is provided by specially designed shape: cup's rim is made at an angle, for easy folding and inserting, and it is also thicker compared to the cup itself and elastic – so that the opening of the cup inside when inserted will be as easy and fast as possible. On the bottom there is a convenient loop that helps to pull the cup down evenly when removing, preventing the contents from spilling.
Lola Games menstrual cups do not pass smells and are completely invisible during wearing. At the same time, the cup can be used for up to 12 hours – that you can even forget about menstruation. It's possible to do sports, swim, travel - Natural Wellness cups will take care of your comfort.
Natural Wellness are presented in the kit of two cups - 15 and 20 ml - packed in a compact waterproof handbag. It is a beautiful accessory and an excellent means of storing cups. Also, any cup can be purchased separately.