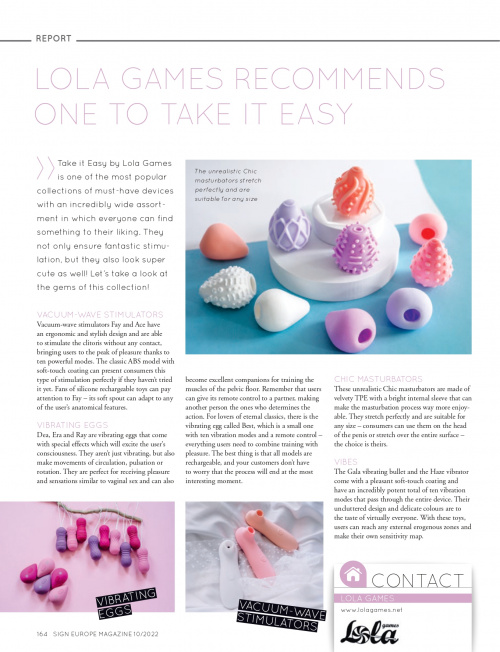 Lola Games recommends one to Take it Easy
Sign Magazine Europe, October 2022
For your convenience, we publish the full text of the article here.

Take it Easy by Lola Games is the most popular collection of must-have devices with an incredibly wide assortment, where everyone can find something to their liking.
Vacuum-wave stimulators Fay and Ace have an ergonomic and stylish design and able to stimulate the clitoris without any contact, bringing to the peak of pleasure thanks to 10 powerful modes. A classic ABS model with soft–touch coating, which can present you this type of stimulation if you haven't tried it yet. Fans of silicone rechargeable toys can pay attention to Fay – its soft spout can adapt to any of your anatomical features.
Dea, Era and Ray vibrating eggs with special effects can excite your consciousness. They aren't just vibrating, but also make movements of circulation, pulsation or rotation. They are perfect for getting pleasure and sensations similar to vaginal sex, and also can become excellent companions for training the pelvic floor muscles. Remember, that you can give its remote control to a partner, making another person the main one. For lovers of eternal classics, there's the Best vibrating egg. A small one, with 10 vibration modes and a remote control – everything you need to combine trainings with pleasure. The best part is that all models are rechargeable, and you don't have to worry that the process will end up at the most interesting moment.
Unrealistic Chic masturbators made of velvety TPE with a bright internal relief can make the masturbation process way more enjoyable. They stretch perfectly and suitable for any size – you can use them on the head of the penis or stretch over the entire surface – the choice is yours.
The Gala vibrating bullet and the Haze vibrator with a pleasant soft-touch coating have an incredibly potent 10 vibration modes that are passing through the entire device. Their uncluttered design and delicate colors are to the taste of virtually everyone. Affect any external erogenous zones and make your own sensitivity map. But don't forget to recharge the toys.