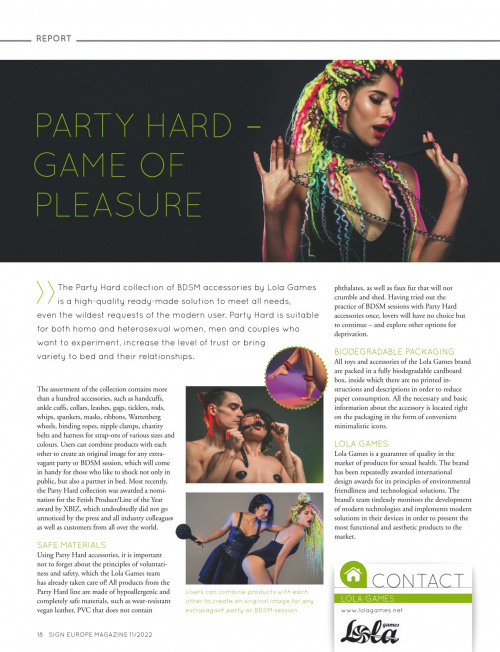 Party Hard - Game of pleasure
Sign Magazine, November 2022
For your convenience, we publish the full text of the article here.

The collection of BDSM accessories Party Hard by Lola Games is a high-quality ready-made solutions to meet all, even the wildest requests of the modern user. Party Hard is suitable for both homo and heterosexual women, men and couples who want to experiment, increase the level of trust or bring variety to bed and their relationships.

The assortment of the collection contains more than a hundred accessories, such as handcuffs, ankle cuffs, collars, leashes, gags, ticklers, rods, whips, spankers, masks, ribbons, Wartenberg wheels, binding ropes, nipple clamps, chastity belts and harness for strap-ons of various sizes and colors.

You can combine products with each other to create an original image for any extravagant party or BDSM session, which will come in handy for those who like to shock not only in public, but also a partner in bed.

Using Party Hard accessories, it is important not to forget about the principles of voluntariness and safety, which the Lola Games team has already taken care of for you – all products from the Party Hard line are made of hypoallergenic and completely safe materials, such as wear-resistant vegan leather, PVC that does not contain phthalates, as well as faux fur that will not crumble and shed. Having tried out the practice of BDSM sessions with Party Hard accessories once, lovers will have no choice but to continue - and explore other options for deprivation.

All toys and accessories of the Lola Games brand are packed in a fully biodegradable cardboard box, inside which there are no printed instructions and descriptions in order to reduce paper consumption. All the necessary and basic information about the accessory is located right on the packaging in the form of convenient minimalistic icons.

Most recently, the Party Hard collection was awarded a nomination for the Fetish Product / Line of the Year award by the prestigious portal in the adult industry – XBIZ, which undoubtedly did not go unnoticed by the press and our colleagues and customers from all over the world.

Lola Games is a guarantee of quality in the market of products for sexual health. The brand has been repeatedly awarded international design awards for its principles of environmental friendliness and technological solutions. The brand's team tirelessly monitors the development of modern technologies and implements modern solutions in their devices in order to present the most functional and aesthetic products to the market.