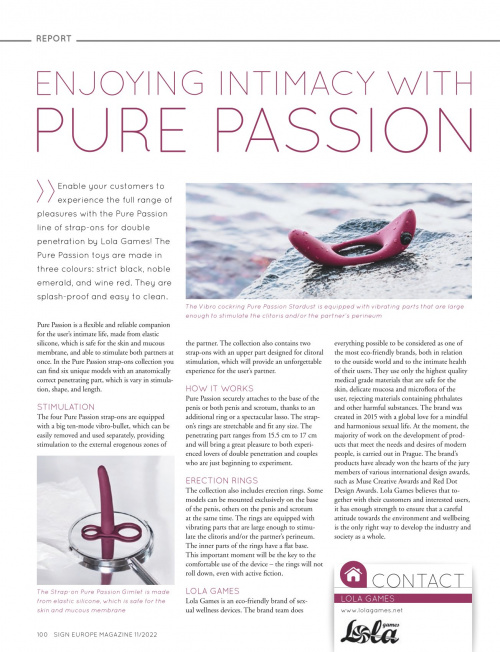 Pure Passion - Enjoy the Intimacy
Sign magazine, November 2022
For your convenience, we publish the full text of the article here.

Experience the full range of pleasures, thanks to the Pure Passion line of strap-ons for double penetration by Lola Games!

Pure Passion is a flexible and reliable companion for intimate life, made from elastic silicone, which is safe for the skin and mucous membrane, and able to stimulate both partners at once. In the Pure Passion strap-ons collection you can find six unique models with an anatomically correct penetrating part, which is vary by its relief, shape and length.

The four Pure Passion strap-ons are equipped with a big 10 mode vibro bullet, which can be easily removed and used separately, affecting the external erogenous zones of the partner. And the two strap-ons with the upper part for clitoral stimulation, which will give an unforgettable experience to your partner.

Pure Passion securely attaches to the base of the penis or both penis and scrotum, thanks to an additional ring or a spectacular lasso. The strap-on's rings are stretchable and fit any size. The penetrating part ranging from 15.5 to 17 cm and will bring a great pleasure to both experienced lovers of double penetration, and couples who are just beginning to experiment.

The collection also includes erection rings. Some models can be mounted exclusively on the base of the penis, others - on the penis and scrotum at the same time. The rings are equipped with a vibrating parts that are large enough to stimulate the clitoris and/or the partner's perineum.

The inner parts of the rings have a flat base. This important moment will be the key to comfortable use of the device - the rings will not roll down even with active fictions.

The Pure Passion toys are made in three colors: strict black, noble emerald, and wine red. They are splash-proof and easy to clean.