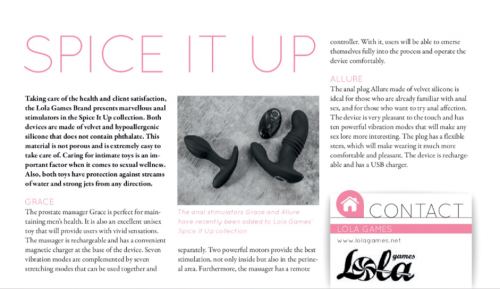 Strong Vibes
Sign magazine, January 2023
For your convenience, we publish the full text of the article here.

Taking care of the health and satisfaction of clients the Lola Games Brand has presented marvelous anal stimulators in the Spice It Up collection.

Both devices are made of velvet and hypoallergenic silicone that does not contain phthalate. This material is not porous and it will be extremely easy to take care of it. Caring for intimate toys is an important condition for sexual wellness.

The prostate massager Grace is perfect for men to maintain health. It will also be an excellent unisex toy that will bring you vivid sensations. The massager is rechargeable and has a convenient magnetic charger at the base of the device. 7 vibration modes are complemented by 7 stretching modes that can be used together and separately. Two powerful motors will provide the best stimulation not only inside but also in the perineal area. The massager has a remote controller. With it, you will be able to fully dive into the process and operate the device comfortably.

The anal plug Allure made of velvet silicone is ideal for those who are already familiar with anal sex, and for those who want to try anal affection. The device is very pleasant to the touch and has 10 powerful vibration modes that will make your sex lore more interesting. The plug has a flexible stem, thanks to which its wearing will be much more comfortable and pleasant. The device is rechargeable and has a USB charger.