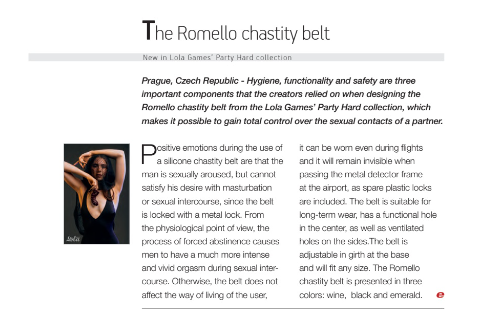 The Romello chastity belt
EAN magazine, February 2023
For your convenience, we publish the full text of the article here.

Hygiene, functionality and safety are three important components that the creators relied on when designing the Romello chastity belt from the Lola Games' Party Hard collection, which makes it possible to gain total control over the sexual contacts of a partner.
Positive emotions during the use of a silicone chastity belt are that the man is sexually aroused, but cannot satisfy his desire with masturbation or sexual intercourse, since the belt is locked with a metal lock. From the physiological point of view, the process of forced abstinence causes men to have a much more intense and vivid orgasm during subsequent sexual intercourse.
Otherwise, the belt does not affect the way of living of the user, it can be worn even during flights and it will remain invisible when passing the metal detector frame at the airport, as spare plastic locks are included.
The belt is suitable for long-term wear, has a functional hole in the center, as well as ventilated holes on the sides. The belt is adjustable in girth at the base and will fit any size.
In our collection, Romello chastity belt is presented in three colors: wine, black and emerald.