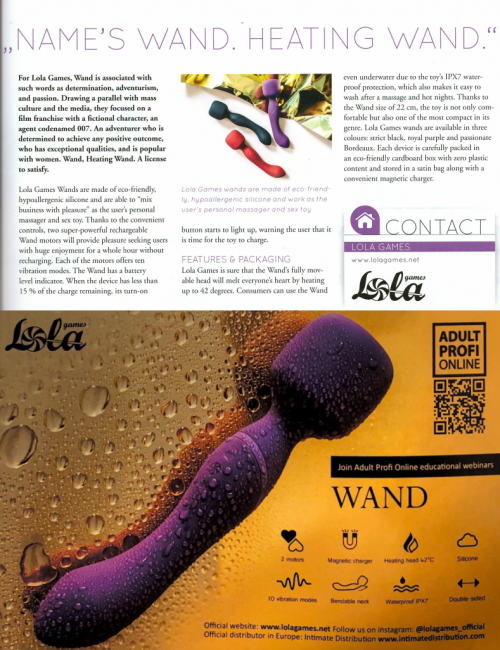 Wand. Heating Wand
Sign Magazine Europe, May 2021
For your convenience, we publish the full text of the article here

For Lola Games, WAND is associated with such words as determination, adventurism, and passion. Drawing a parallel with mass culture and the media, we focused on a film franchise with a fictional character, an agent codenamed 007. An adventurer who is determined to have any positive outcome, who has exceptional qualities, and is popular with women. Wand, Heating Wand. A license to satisfy.

Lola Games wands are made of eco-friendly, hypoallergenic silicone and are able to "mix business with pleasure" as your personal massager and sex toy. Thanks to the convenient control, two super-powerful rechargeable WAND motors will give great pleasure to users with any sensitivity for a whole hour without recharging. Each of the motors provides 10 vibration modes. The WAND has a battery level indicator. When the device has less than 15% of the charge remaining, its turn-on button starts to light up, warning the user that it is time for the toy to charge.

We are sure that the wand's fully movable head will melt everyone's heart by heating up to 42 degrees. You can use the WAND even underwater due to the toy's IPX7 waterproof protection, which also makes it easy to wash it after a massage and hot nights.

Thanks to the WAND size of 22 cm, the toy is not only comfortable but also one of the most compact in its genre. Lola Games wands are available in three colors: strict black, royal purple and passionate bordeaux. Each device is carefully packed in an eco-friendly cardboard box with zero plastic content and stored in a satin bag along with a convenient magnetic charger.